Soccer Goals & Nets
Delivering the very best in soccer equipment. Outfit your soccer club, school or sports facility with quality soccer nets, goals, box nets and equipment installed by professionals.
ALUMINIUM SOCCER GOALS
(FOOTBALL GOALS)
Light weight – two people can easily lift the soccer goals out of their sleeves and move to a storage area in the off-season. Install extra sleeves so the goals can easily be moved to a training area or cross field games to conserve the sports pitch and then move back on game day. Less cumbersome than free standing goals to move and safer as will not topple over.
Low maintenance and durable – high quality aluminium alloy finished in a quality powdercoat for protection from the harsh Australian climate. These soccer goal models are available with a two piece cross bar, making storage in the off-season easy.
Corrosion resistant – aluminium will not warp, rot or rust. Rust can be dangerous as it weakens vital load points as these often go unseen until they fail. Why risk it.
Designed to International standards – unique oval profile allows the soccer ball to slide off, not bounce off the frame. Special internal ribs give these goals maximum strength but also makes them lightweight and safe. The ribbing and thickening inside the extrusion give these goals extra strength, especially where needed like the front of the posts.
Safe – the soccer goals are installed in sleeves in the ground making the very safe as they will not topple over. The large profile size  makes it difficult to hold on to thus discouraging people to swing off the cross bar. If vandals tamper with the locking bolts, the goals will not come apart and injure users. Net hooks are recessed into the profile to comply with OH&S requirements and do not fall off.
Installation – easy for DIY installers or contact Hi Tech Sports for their professional installers to do the installation for you.
Various models – senior 7.32m x 2.44m, Junior sizes 5m x 2m, Futsal 3m x 2m. P shaped goals, International goals using a FIFA box shape nets, beach football with portable bases, combination rugby/football goals, futsal goals and all standard and special size nets that you may want.
Model FIFAP – P shaped soccer goals, suitable for clubs and parks with the net supports.
Download Brochure.
Model FIFAINT – International soccer goals using a FIFA box shape nets supported in rear net posts. For more competition standard.
Download Brochure.
Model FIFANF – folding lower net frame to support the bottom of the net. Can be folded up during mowing or when not required.
Model ALMG – 3m x 2m aluminium futsal size soccer goal with folding sides. Optional sleeve and spigot system for outdoor use.
Download Brochure.
 Model FOOTCOM – combination rugby or league/football goal.
Download Brochure.
Foldaway Football Goals – mounted to posts behind the field, these soccer goals are attached by arms and sit on roller wheels so they can be folded sideways flat against the fence and then required will fold/roll back out into the play position and held in place. No sleeves on the playing field.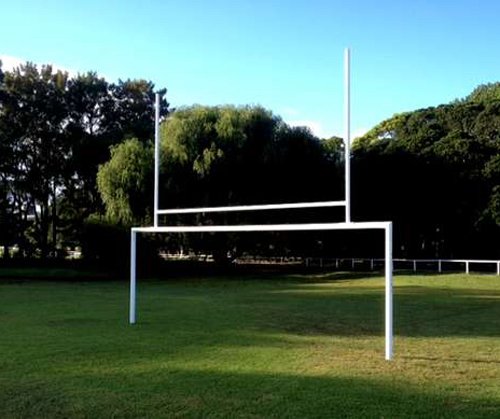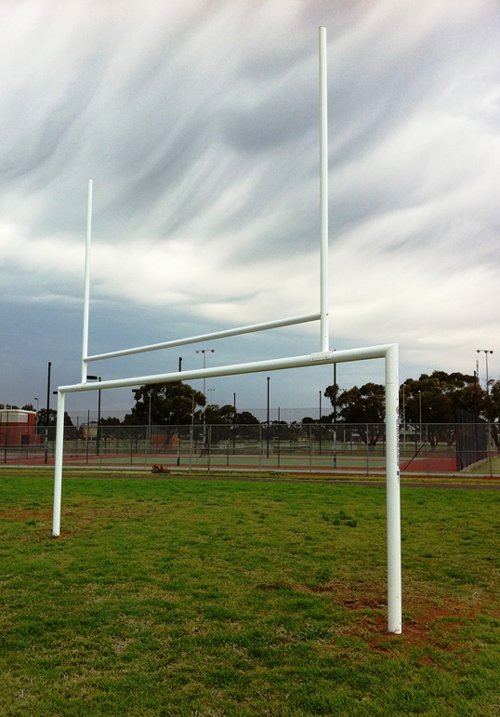 CLICK ON PDF BROCHURES BELOW FOR MORE INFORMATION
SOCCER TEAM SHELTERS
Player shelters are available in various sizes and options. Manufactured from high quality aluminium, the shelters are finished with a durable transparent Lexan polymer, and with your choice of timber, or long life aluminium seats.
HiTech Sports has a complete range of corner flags, and post padding for AFL and all other sports. Flag and banner poles are also available in fibreglass or aluminium.
SCOREBOARDS
HiTech Sports has a complete range of scoreboards for AFL and all other sports. Scoreboards can be customised to include team names or sponsors details, and even designed to display the information you need.
SOCCER ACCESSORIES & EQUIPMENT
Edit

| | | |
| --- | --- | --- |
| | FIFANF | Folding net frame for football goals |
| | FIFA-N2 | Box nets |
| | FIFA-N1 | P nets |
| | CLIP | Net clip to suit previous ALMG models and soccer goals |
| | SB | Range of indoor and outdoor scoreboards for netball |