Tennis Posts & Tennis Court Nets
Get the most out of your sporting environment with our quality designed and manufactured tennis court nets and posts built for multisport spaces.
Our Tennis Court Net & Post Systems

When looking for a tennis net system for your school, sporting club, gymnasium, or multi-sport space, it's important to find solutions that are both versatile and budget-friendly, without sacrificing the full-width tennis court experience.
At HiTech Sports, our tennis court net and post solutions are adaptable to your space and help to create fully integrated multi-sport environments that can be set up and taken down in minutes, all without sacrificing quality, safety or overall experience.
If you're looking to create adaptable, multi-sport spaces that deliver the full fun and experience, talk with us today.
TNES Tennis Post
Essentials External Winder

Made from hot dip galvanized steel with black polyester powder coated finish, the TNES Essentials External Winder Tennis Court System is purpose built to survive the harsh and ever-changing Australian weather conditions.
This European design allows for quick and easy full width tennis net attachment and is the ideal solution for multi-purpose courts without sacrificing quality or experience.
Uncommon in this region for budget systems, the TNES Tennis Post & Net system is the only budget solution available with ITF certified across top tennis net cable.
The benefits of our TNES Tennis Court Net Systems:
75mm SHS steel construction
Built for longevity with hot dip galvanised steel for ultimate rust resistance
Black polyester thermal powder coated finish for extra protection
Easy to use external tennis net winder with removable handle
Sleeves and caps available
TNES-BP optional bolt down base plate model also available
Allows for full post to post tennis net as per ITF (International Tennis Federation) rules
Net cable on top of the post as per ITF rules
Ideal for multi-purpose / multi-sport environments as quick and easy to remove net and posts.
The TNES Essentials External Winder tennis court system is fully ITF compliant and was used at the Perth Arena for the Hopman cup.
For more information Download our Tennis Post Brochure.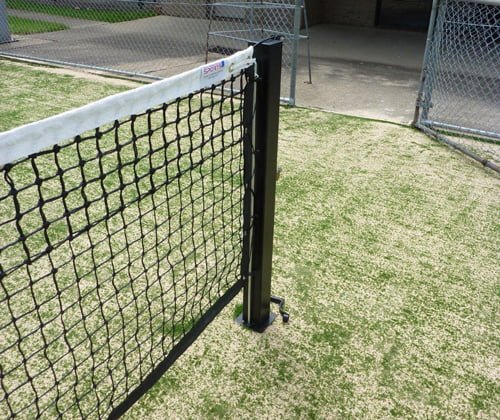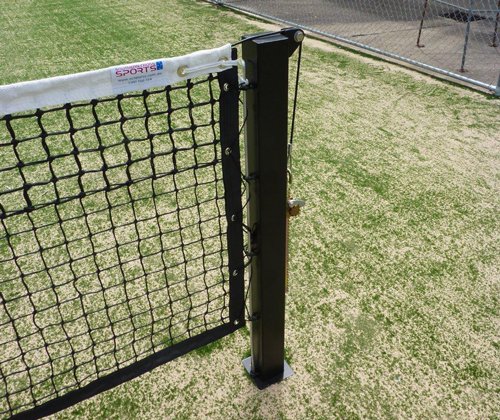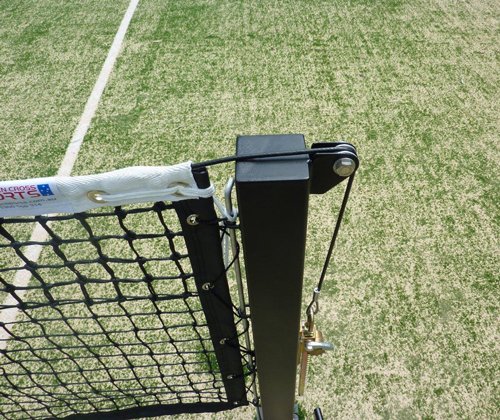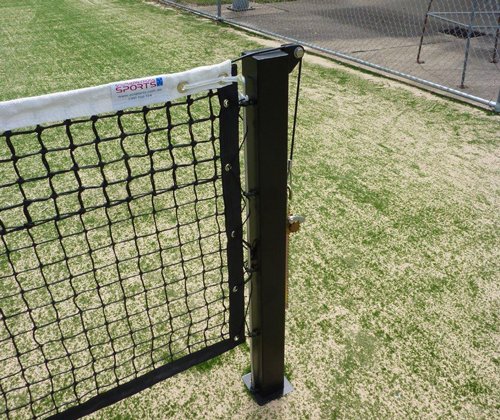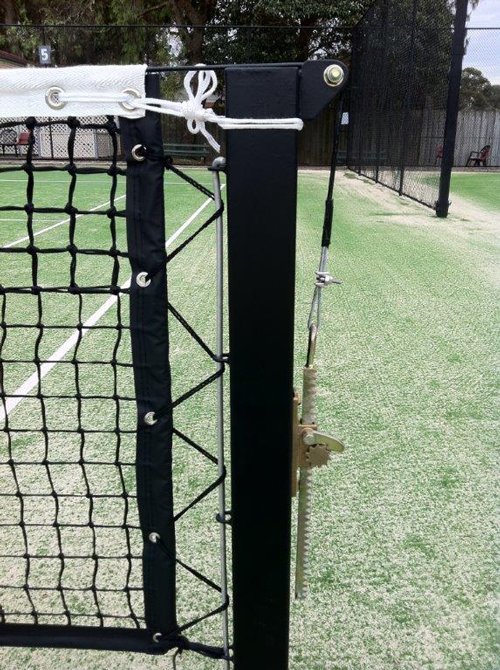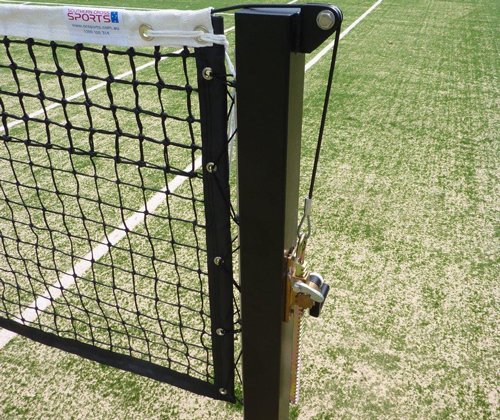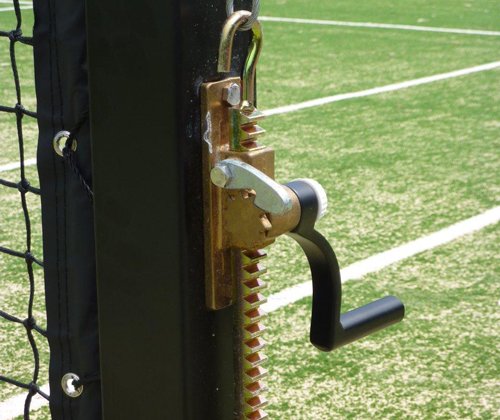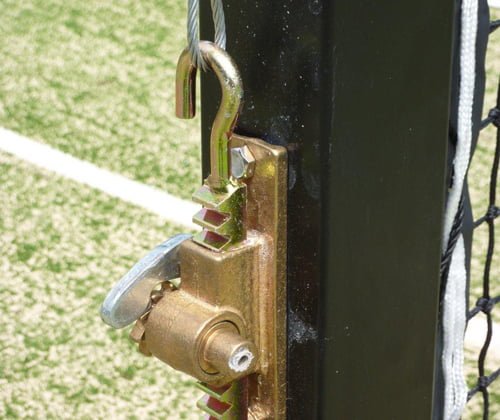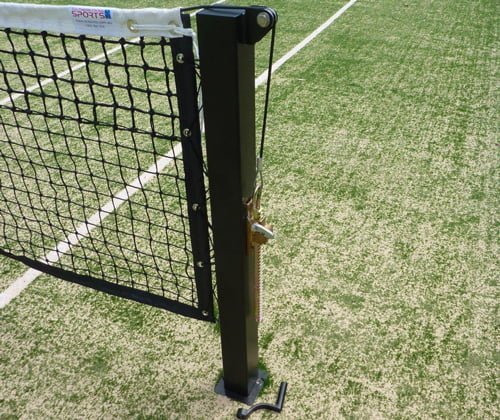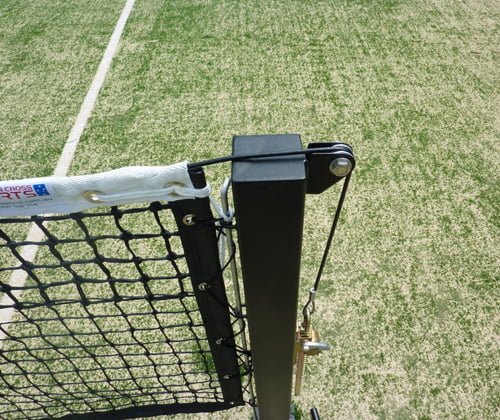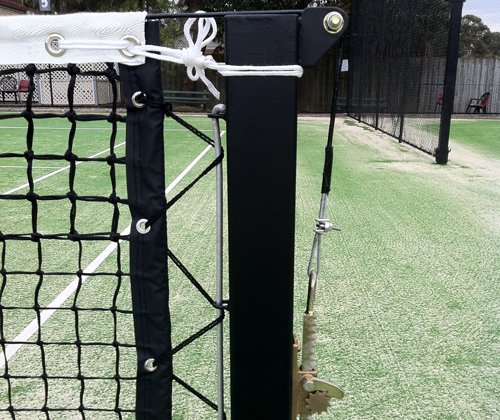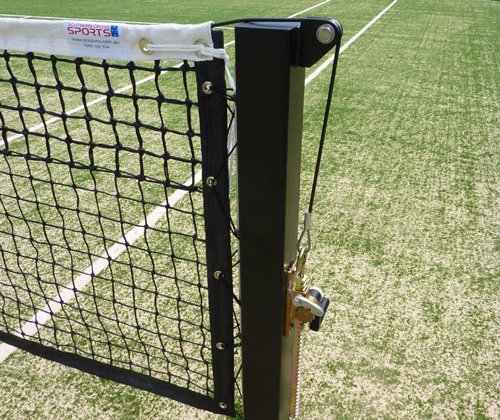 TNST Tennis Post
Stadia Internal Winder

The TNST Stadia Internal Winder Tennis Court System is purpose built for top level competition.
This all inclusive tennis net system incorporates an internal non-rust drum winder system with top rollers for a smooth, over the top net path.
The heavy duty square steel tennis posts are protected by the latest generation thermacoat finish, designed to last longer and deliver superior protection to regular powder coated finishes.
The benefits of our TNST Tennis Court Net Systems:
75mm heavy duty square steel posts
Easy to use internal drum winder system
Thermacoat finish (superior to powder coating)
Net guide roller wheel delivering smooth over the top net pathing
Integrated net lacing bar
Premium non-rust brass internal winding mechanism
Post to post net as per ITF rules.
For more information Download our Tennis Post Brochure.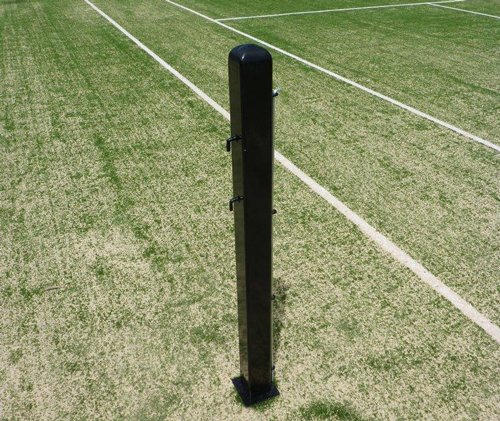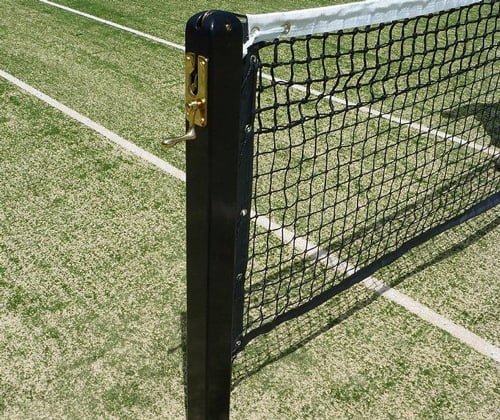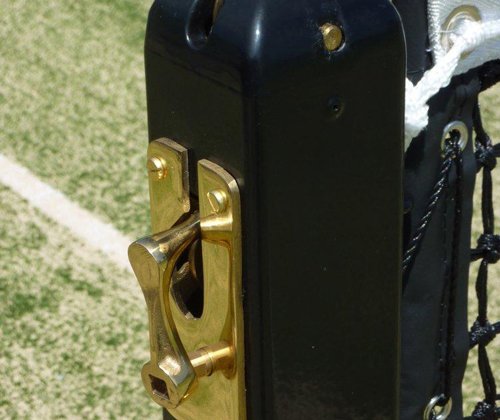 TNMES Portable Tennis Net
TNMES Mobile Competition Tennis Net & Post System

Our mobile tennis court net system is the perfect solution for multi-use and multi-sport spaces.
Are your courts also used for basketball or netball? Not a problem! The versatile design makes it easy for a single operator to wheel the portable tennis court net into place and have it set up or taken down in seconds.
With the built-in height stamps, you're able to set up the tennis net system, lift the wheels off the surface, set the net to the required height and completely immobilize the system while in play. This prevents any unwanted movement and helps to distribute the weight of the system on sensitive or uneven surfaces.
The benefits of our portable tennis court net systems:
Full-width post to post tennis net
Manufactured from heavy duty steel with a protective powder coated finish
Integrated weight system for superior net tension and stability without causing the posts to lift under strain
Built-in end stamps for easy height adjustment and stability while preventing unwanted movement during play
Our portable tennis net systems are supplied complete with a high-quality mesh tennis net
For more information Download our Portable Tennis Net Brochure.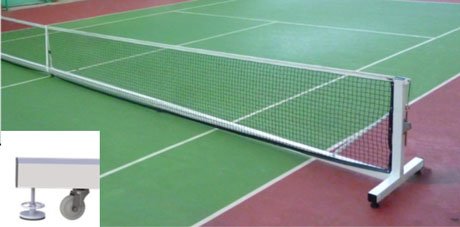 TENNIS NETS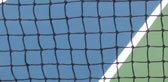 HiTech Sports supply a complete range of tennis nets from full drop to external winder nets. They include:
Double mesh top rows
Heavy duty top bands
Plastic coated galvanised cable
High competition quality
Our TEN 1 (full drop) and TEN2 (760mm drop) net fits all our posts perfectly. The TEN 1 has a tapered bottom so when held down with a centre strap, the bottom of the net is parallel to the court.
CLICK ON PDF BROCHURES BELOW FOR MORE INFORMATION
Scoreboards
HiTech Sports has a complete range of outdoor scoreboards for a wide selection of field and court sports. Scoreboards can be customised to include team names, sponsor details, and other unique and customised information.
No matter the project size, scope or complexity, we're here to provide you with the right information and equipment for your project.
Tennis Court & Equipment Extras
TNUC
Tennis Umpire Chair

Complete with sun roof protection.

Our tennis umpire chairs are manufactured from high quality components and designed for both function and comfort.

TEW
Essential Tennis Post Winder

Quality tennis post winder mechanism for quick and easy adjustment of net height and tension.
TNAS
Aussie Clean Sweep

Groom your tennis court to the perfect finish.

The Aussie Clean Sweep easily removes leaves, sticks, rocks and other debris from your tennis court.

Suitable for all court surfaces including: Synthetic Grass, Red Porous, Clay, Asphalt, Fast Dry, Grass, Plexi Pave, Loam etc.
TNDCS
Tennis Dry court Squeegee

The pliable foam blade forms a tight seal to capture and push water off the tennis court surface to aid in quicker drying.
TNDCSa
Tennis Dry Court: Spare Squeegee Rubber
TS
Tennis Court Privacy Screens

Available in both plain and customised options, our tennis court privacy screens and netting delivers superior coverage.

Tennis court privacy screens not only help to reduce visibility, but provide excellent sun and wind protection for the court.