Sports Facility Maintenance
Comprehensive maintenance of sports facilities and equipment.
Maintaining Sporting Facilities and Equipment
At HiTech Sports, we offer comprehensive inspection, maintenance and repair of your sporting hall facility and equipment.
Our services are carried out by fully certified technicians and include scheduled on-site maintenance, as well as emergency call-out services should any unforeseen issues arise.
Our technicians thoroughly check all your sporting equipment before creating detailed written reports containing our recommendations to ensure the equipment is operating safely and efficiently.
We are then able to provide regular audits of your sports facility and equipment, including thorough servicing, maintenance and repairs. This level of service ensures your equipment is safe and functional every time you need it.
Why Is Sports Equipment Maintenance Important?
Scheduled maintenance and checks are a vital part of any OHS program. This process ensures all sports facility equipment and systems are safe for all users while ensuring sporting equipment operates properly to prolong equipment life.
Like any piece of machinery, all sports equipment will require servicing over time. Just like a car, or a bench, bolts can work loose, cables can fray or joints could use a little lubrication.
Sporting equipment maintenance is essential for all mechanical systems, particularly indoor basketball system maintenance and gym dividing curtain maintenance. As these systems are suspended overhead and often mechanically operated it's important to maintain their quality.
Likewise, regular sports equipment maintenance not only ensures safety, but helps to protect and prolong the life span of these expensive pieces of equipment so you can guarantee use-life and maximise your return on investment.
Facility and Equipment Maintenance Checklist
An inspection of sporting equipment should be carried out by a certified technician at least once per year (or more frequently where use is higher)

We recommend that all relevant sporting equipment is serviced at least annually by certified technicians (or more frequently where use is higher)

A dedicated sporting equipment maintenance provider should undertake safety inspections, as well as preventative and reactive maintenance on installed sporting equipment (particularly on equipment suspended overhead)
This includes attention to the following:
Sports hall netting and dividing curtains

Goals, posts, nets and rings

Overhead mounted systems

Indoor basketball systems

Indoor batting cage systems

Safety padding

Scoreboards
If you would like to arrange an inspection or maintenance visit, or you'd like more information about our maintenance of sports facilities and equipment, please contact us today.
We have an extensive range of spare parts available at sensible prices that suit all of our equipment and most other sporting equipment.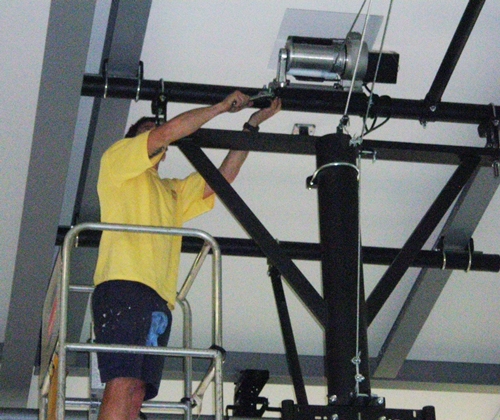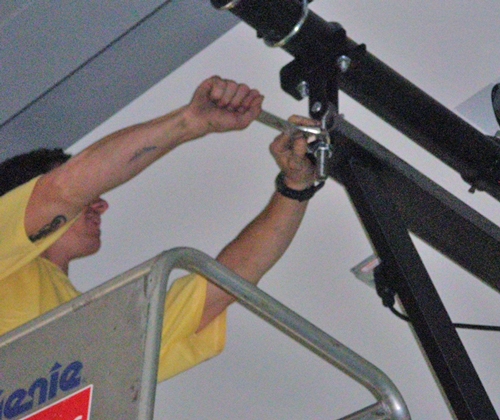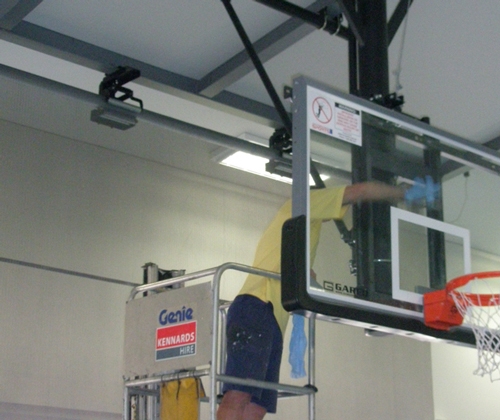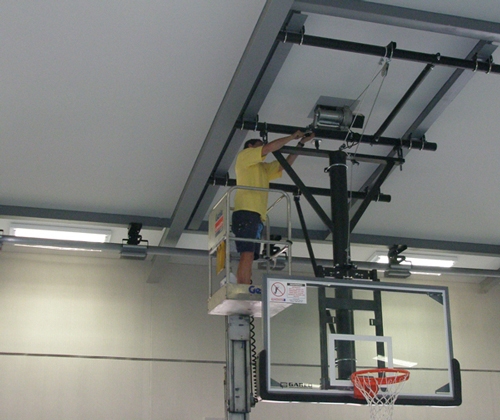 For more product information and related accessories, please view the brochures below.
Basketball Safety Straps are recommended for all retractable basketball systems and are available as an option. These straps can be retro fitted to any system.