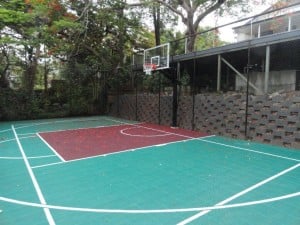 PowerGame upgrades to courts and back yards has proven to be a popular exercise this year with customers across the country installing courts in their back yards. PowerGame is an alternative to grass or concrete, never need watering or recoating.
Often coupled with a high qualtiy Basketball system from the Premier range or multisport games posts, the courts are generally installed in less than a day, and can even be done as a DIY project.
These courts are transforming redundant areas around Australasia into usable recreational spaces, and encouraging the whole family to participate in a healthy outdoor lifestyle.
PowerGame surface is safe for the kids, provides a safe haven with premium equipment is of a better standard than those found in public areas. Added advantage, if they sell the property, they have the option to take the court with them.
---